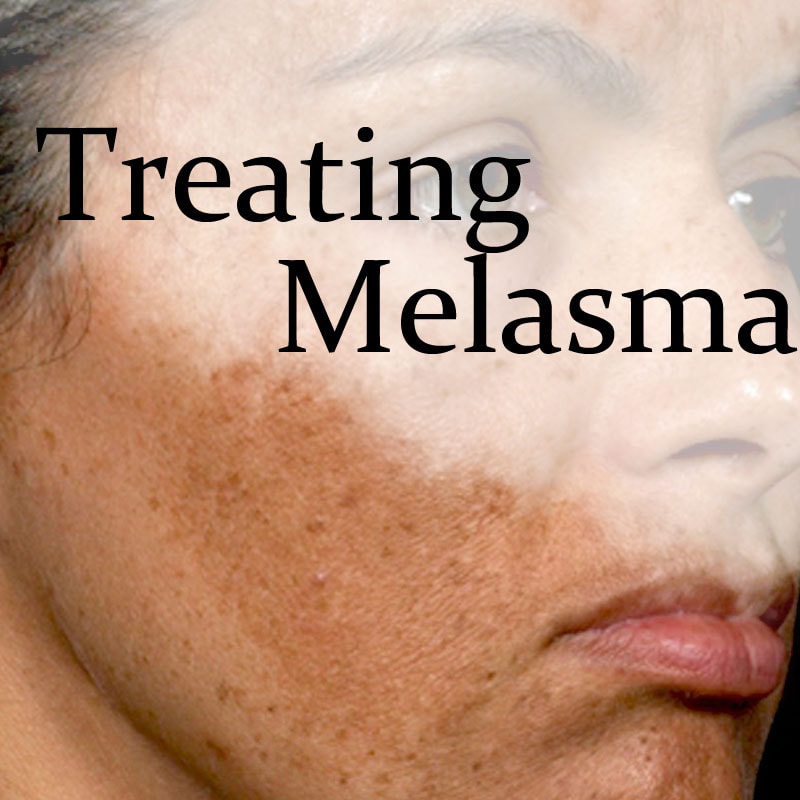 Treating Melasma
Patient L: How can I treat these patches of darkening on my face? These pigmentation can be treated by lasers?
​Melasma is an acquired pigmentary condition that tends to be long term, with patients commonly falling into relapse. It tends to affect women in their 30s and 40s and can occur more frequently in child bearing women. Men can also be affected as well. Contributing factors are abound such as long term ultraviolet exposure, genetics contribution, oral contraceptive use, hormonal fluctuations, thyroid disorders and use of irritant cosmetics.
What can we do to control it?
The answer lies in understanding Melasma, arresting the aggravating factors, then rebalancing the skin profile!
Arresting The Aggravating Factors
Avoid UV radiation
Use of broad spectrum sunscreen can achieve up to 26% improvement as early as 3 months. Regular application of broad spectrum sun block can reduce melasma incidence by up to 90% and decrease its intensity by 50%.
Hormones
Increase in pregnancy hormones or use of oral contraceptives can trigger melasma.
Avoid over-exposure to heat
Professions such as bakers who are exposed to oven can have aggravation.

Avoid exposure to high light intensities
Professions such as dentists are more resistant to treatment of melasma. Visible light can induce hyperpigmentation via opsin 3 which is a specific sensor in melasma. Sunscreens containing iron oxide confer protection against these visible light of shorter wavelengths.

Avoid use of photosensitizing cosmetics
Found in a range of cosmetics where they can aggravate melasma.
Rebalancing The Skin Profile
The key here is to select treatments that are sustainable in the long term with minimal side effects.
​
Use of Skin Lightening Agents
I recommend RAI Post Laser Intensive Recovery Serum for a few reasons:
(1) Herbal extract with skin lightening components.
(2) Calms down inflammation in skin which is associated with Melasma.
(3) Zero risk of exogenous ochronosis
*a permanent darkening that occurs with prolonged use of certain skin lightening agents such as hydroquinone.
(4) Improvement in overall skin profile, texture and quality.
Use of R2 Laser
(1) Targets underlying inflammation implicated in melasma.
(2) Helps to balance and normalise the production of pigments rapidly.
(3) Disperses areas of concentrated pigmentation.
Other Modalities Involving chemical peels, growth factors can be considered on a case by case basis.

​On a personal note, I do not advocate oral medications for long term management of melasma.
Enquire with your doctor today to find out what is the best way to control your melasma and restore clear even skin tone!