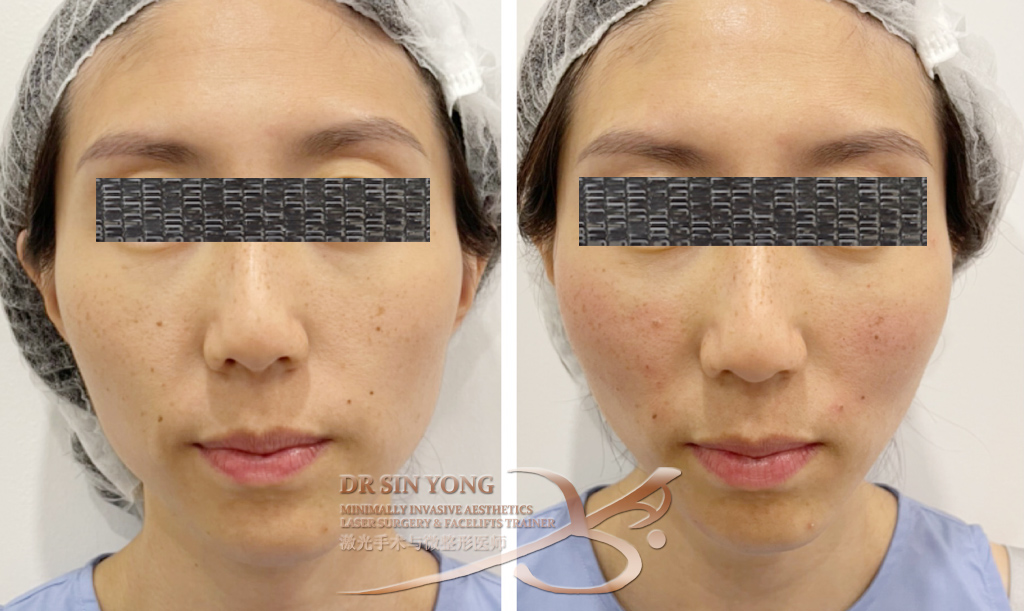 Time Freeze Laser VS Aging
Time Freeze Laser targets for anti aging by lifting the face and also getting rid of photoaging. Photoaging is a consequence of UV light from the sun. Over a period of time, the UV light rays induces fine wrinkles to develop, pigmentation spots to form and it damages the skin's architecture, causing a loss of its original elasticity and smoothness.
With aging, we lose deep fat compartments and they are crucial to the overall facial structure and all these changes cause us to undergo premature aging, to look older from our physiological self where areas of sagging fats tend to accumulate.
The Time Freeze Laser Lift
Areas that it can treat:
Lifts Cheeks
Lifts Nasolabial Folds
Lifts Eyebrows
Lifts Eyelids
Lifts Jowls
Tighten Double Chin
Tighten Neck
Lifts Breast
Lifts Buttocks
Tightens Tummy 
Improves Skin Quality Substantially
The Time Freeze Laser Lift is a next generation of lifting targeted to surpass what conventional HIFU/ RF can achieve.
Having used the above treatments over the years, Time Freeze Laser Lift is developed to give superior results and is customisable to your needs.
Essentially, this means that your results are instantaneous on the same day of treatment!
The energy delivered is channeled to various areas of the skin from the most superficial part of the skin, all the way deep into deeper parts of the derms. This translates into a full thickness improvement to the entire skin, generating a facelift. 
Best part of all?
Minimal downtime, minimal discomfort! 
Who Is Suitable For Time Freeze Laser Lift?
Almost everyone can do it! It is a gift from the heavens and one of the best things you can do for your skin. The power can be varied for all skin types.
It is the treatment for restoring 5 – 10 years of youth and to rejuvenate the aging and sun damaged skin!
We may also use combination treatment to achieve optimal results.
Dr Sin Yong's Recommendations For Post Treatment Care
(I) Redness and swelling is the might occur but usually goes away within the first hour post treatment.
Use of RAI Intensive Recovery Serum and Ultimate Facelift Serum as step one and two to augment facelift results, lessen PIH and also decrease swelling and redness.
(II) Prevention of Post Inflammatory Hyperpigmentation
Sun avoidance and protection for 2 weeks prior to treatment and at least 4 weeks after treatment.
Walk in sheltered areas. Use an umbrella when in non sheltered areas.
Maintain regular sun-protection with sunblock, which can be applied immediately after.
Does it Work For Double Chin and Areas of Sagging Fats?
Patient K: I tend to have issues with sagging fats and double chin fats, can it be used for me?
Using a customised protocol with the power adjusted to your skin and physical needs, a lifting and tightening effect can be achieved to target your double chin, those nasolabial folds and jowls to allow the jawline to be seen more clearly. A Ultra V Face Lift can still be achieved from The Time Freeze Lift. 
Key Highlights of Time Freeze Laser Lift
For Contouring:
– V-Shaped Facelift
– Jowl Reduction
– Jawline Accentuation
– Lessens Nasolabial Folds
– Forehead Wrinkle Reduction
– Neck Lines and Wrinkles – Reduction
Double Chin Reduction / Removal
For Skin Improvement:
– Immediate Skin Brightening
– Lightens Pigmentations
– Decreases Inflammation
– Reduces Pore Size
– Decreases Unwanted Facial Hair
– Reduces Scar Appearances
– Stimulation of Elastin and Collagen Production
– Better Skin Quality
The Ideal Facelift:
– Minimal Downtime.
– Injection Free Treatment
What About Sagging Body Regions?
It is common to experience sagging in areas over our body. However, it can be treated! 
The Time Freeze Laser Lift brings about a non surgical, tightening and lift to body regions where sagging or wrinkled skin have been a concern.
These regions include : 
Tummy
Knees
Underarms
Thighs 
Buttocks
Successive sessions can further improve the results to achieve the ideal!
Achieve a tighter and firmer buttocks with the Time Freeze Laser where the overall skin tightens and lifts! 
With the use of 4K Body Lift, additional improvements are possible! 
What About Droopy Eyelids?
Patient L: I have droopy eyelids and have been advised for a blepharoplasty, can it delay the surgery for me?
The answer is yes! Notice how The Time Freeze Laser can be customised to targeting droopy eyelids, with minimal downtime and immediate results. Retreatment can be done for further improvements. 
The improvements can be seen as an increased show in double eyelid and also lessening of upper eyelid skin folds. 
Find out whether you are a suitable candidate for The Time Freeze Laser Lift Today!