3D Facial Reconstruction Facelift – A New Age of Facelifts
Patient Z: What is the best form of facelift currently? Especially if I do not want surgery at this point of time.
Here we evaluate various forms of facelifting techniques. We shall evaluate how HIFU facelift, Thermage facelift, Ultherapy facelift, threadlift facelift compare with 3D Facial Reconstruction Facelift.
3D Facial Reconstruction was developed by Dr Sin Yong after years of experience in helping patients achieve a slimmer face. Inevitably, this always referred to a slimmer lower face where the sagging jowls are reduced. Ideally, the nasolabial folds should also be lessened to achieve an overall lower face rejuvenation.
Being at the forefront of performing countless threadlift procedures for lifting of jowls and nasolabial folds allowed Dr Sin Yong to master the key to a successful facelift. Coupled with the experience of being an expert trainer for dermal fillers, Dr Sin Yong has the precision to grasp the exact plane of placement for dermal filler products in treatment of facial hollows. These facial hollows can range from the tear trough, hollowed cheeks, uneven forehead and also in receded chin. Special areas of treatment include that of hands, neck and also buttocks, to give a rejuvenated appearance.
What Are The Results of 3D Facial Reconstruction?
How soon do the results kick in?
The improvements in 3D Facial Reconstruction come on as early as 2 weeks post treatment. Ideal results are in 4-6 weeks.
Is there any downtime expected?
Yes, there is always swelling present for about 10 days and possible bruising and mild scab formation can be present.
What kind of results do I expect?
Accordingly to the area that you are concerned with, you should achieve a V shaped facelift with a slimmer lower face. Jowls and nasolabials folds will be reduced. In case for eyebag reduction, Dr Sin Yong achieves a reduced eyebag such that the puffiness of the eyebag is reduced.
How soon can I repeat the next procedure?
About 4-6 weeks later.
Why is this procedure repeated sometimes?
As much as Dr Sin Yong believes in single session treatments, every patient is different with a varied individual response. Repeated sessions allow for fine tuning to reach the ideal that you, as a patient will want.
How does 3D Facial Reconstruction compare with threadlift for facelift to target sagging jowls, sagging nasolabial folds and double chin?
Threadlift utilise PDO or PCL threads to allow for a fixation and anchoring of dropping facial fats towards the hairline, to achieve a lifted result. Threadlift results are based on an implantable suture, either PCL or PDO material, and will fade away with time, typically lasting about 1 year before the need for a subsequent session.
3D Facial Reconstruction targets the source of the sagging jowls, or sagging nasolabial folds, or eyebag puffiness. It uses surgical radio frequency to reconstruct the structural support within the the face to tighten and lift the face. By doing so, 3D Facial Reconstruction stimulates collagen and elastin to be laid down in precise structural layers to restore the supporting structure of the face, giving a lifted appearance. It's intensive stimulation of collagen and elastin allows for an enhanced longevity of 2 years and beyond. With a comparison to threadlift, 3D Facial Reconstruction becomes the superior option for facelift.
Can it Remove Double Chin?
Yes, 3D Facial Reconstruction can be used to target all the regions that threadlift does.
These regions includes :
Nasolabial Folds Lifting to treat Nasolabial fold sulcus
How does 3D Facial Reconstruction compare with Thermage, Ultherapy, Ultraformer and HIFU?
Thermage uses radio frequency energy to stimulate collagen within the face. Ultherapy, Ultraformer and HIFU uses high intensity frequency ultrasound to stimulate collagen within the face. Typically the results of HIFU or Thermage takes about 3 weeks to kick in and last up to a year. That said, the amount of improvement from HIFU or Thermage is individual dependent and varied.
3D Facial Reconstruction uses a customised protocol according to facial assessment by Dr Sin Yong whereby the surgical radio frequency energy is delivered to areas that are most deficient, thereby allowing for the greatest improvement for every individual. Results can be seen as early as 2 weeks after the procedure and last beyond 2 years.
Is threadlift still needed for facelift?
Dr Sin Yong is a MINT Threadlift trainer to other junior doctors. He firmly believes with 3D Facial Reconstruction and The Time Freeze Laser Lift , superior results can be obtained with a better longevity as compared to threadlift.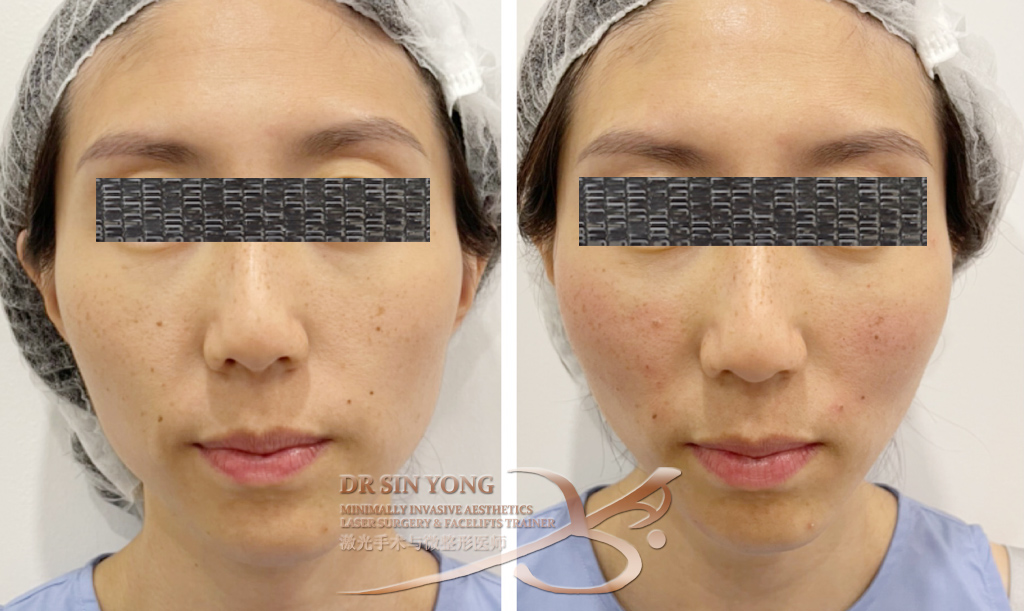 What about areas of hollows on my face, does 3D Facial Reconstruction treat my tear trough?
Areas of hollows typically require volume replacement and Dr Sin Yong uses a range of advanced dermal fillers to achieve the best result. Fillers can be used to target tear trough regions, where the undereye fillers are placed to achieve a smoothness of transition to the cheek.
How do I know if I am a suitable candidate for 3D Facial Reconstruction?
If there are sagging areas on your face, especially on sagging jowls or sagging Nasolabial folds, it is likely you are a good candidate. For affirmation, it will be best for a in person consultation with Dr Sin Yong before proceeding. A selfie can also be sent to Dr Sin Aesthetics Consult at +65 8023 7170 for a personal evaluation by Dr Sin Yong.
#threadlift #doublechinreduction #saggingjowls #nasolabialfoldsulcus # nasolabialfoldlifting #nonsurgicalfacelift #thermage #ulthera #ultherapy #HIFU #doublechinsurgery #noninvasivefacelift #timefreezelaser #drsinyongfacelifts #vfacelift #vshapethreadlift #undereyefillers #templefillers #turkeynecktreatment